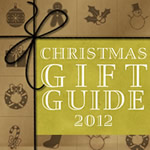 In this busy season of decking the halls, baking cookies and planning for the big day, we can help you simplify things with some great gift ideas. From the latest must-read books, to heartwarming family films, to Christian music from your favorite artists, we have something for everyone on your 2012 Christmas list!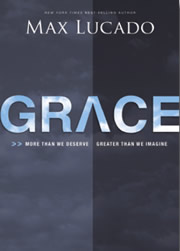 GRACE: More Than We Deserve, Greater Than We Imagine by Max Lucado
GRACE: IT'S ALL WE NEED AT CHRISTMAS AND ALL YEAR LONG He's a voice of hope in a stark world. He's spoken before government leaders, including the President of the United States, at the 1999 National Prayer Breakfast. He's comforted thousands in times of national tragedy. More than 100 million of his products have been printed in 41 languages around the world, including 80 million books to date. Sixteen of his titles have sold more than one million copies each. Reader's Digest dubbed him "America's Best Preacher," and this preacher's books have appeared on every major national bestseller list including The New York Times, Publishers Weekly, USA Today, Evangelical Christian Publishers Association and the Christian Booksellers Association.
Max Lucado — pastor, author and storyteller — may have a catalog without peer in the inspirational market, but he's still just a regular guy. A man who wrestles with the same things that most of us do: fear and uncertainty, balancing work and family, keeping faith alive in a crazy world.
This self-described non-scholar doesn't claim to have all the answers to life's mysteries. But he knows the One who does. Max's life mission is to help people fiind their place in God's grip of grace.
And that's right where his fall 2012 release, GRACE: More Than We Deserve, Greater Than We Imagine, fits in.
"In GRACE, I wanted to go beyond the idea of what grace is, to focus on what grace does," says Max. "And not just what it means for us in terms of being forgiven and going to heaven, but that we are actually passionately held, and powerfully changed in our hearts and attitudes by grace. My hope is that this book captures the incredible, transformational power of grace."
Max also makes his message of grace available to younger audiences with the simultaneous release of Grace for the Moment: 365 Devotions for Kids, (the children's version of his bestselling devotional Grace for the Moment) and a book for teens, Wild Grace, which is one in a family of related products in the GRACE line from Thomas Nelson, Inc. Also included is the full-color gift book Grace Happens Here.
Max contends that we often settle for wimpy grace. Like a goldfish, it swims in circles in a bowl on your shelf. It's pretty, but it doesn't affect your life. It doesn't cause trouble or demand a response. It stirs no emotion and incites no reaction. It's easily neglected and quickly forgotten. And it's utterly useless.
"Grace is God's decision to change everything," explains Max. "Good-bye, earthly labels. Stupid. Unpopular. Ugly. Failure. No longer. You aren't who they say you are. You are who He says you are. Spiritually alive. Connected to God. Amazing." The grace that Max writes about has the power to change everything. It's more than we deserve, greater than we imagine. And it's all we need at Christmas and all year long.
~~~~~~~~~~~~~~~~~~~~~~~~~~~~~~~~~~~~~~~~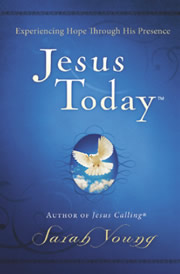 JESUS TODAY (THOMAS NELSON) by Sarah Young
Thomas Nelson Publishers is proud to present three new titles from bestselling author Sarah Young; Jesus Today™, Jesus Calling® Bible Storybook and Jesus Calling®— Young Adult/Teen Edition.
Young's bestselling first book, Jesus Calling®, was born after years of writing in her prayer journal and feeling led to write down what she believed God was telling her. Knowing that her writings were not inspired as Scripture is, this process still helped her grow closer in her walk with God. Others were blessed as she shared her writings, until people all over the world were using her messages.
Written in the same first-person format as Jesus Calling®, Jesus Today™ is a themed devotional focusing on the hope that Christians can find in their Savior. The book contains 150 devotional thoughts designed to connect readers to their Lord with the help of written-out Scripture and hope-filled quotes scattered throughout the book.
In Jesus Today™, readers will be renewed with a deeper sense of hope as Sarah shares this about her spiritual journey in writing the book: "When I began writing Jesus Today™, I was deeply discouraged by the failure of many months of intensive medical treatment to improve my health. However, the longer I worked on the book — focusing on finding hope in Jesus — the more hopeful and encouraged I became. If I'd been healthier I would not have been able to write this book. I might have been able to write a different book, but not this one. This book really came out of the trenches."
Similar to parents and grandparents, children and teens can now experience the same Jesus Calling® messages in formats perfect for each age group. With iconic Bible characters paired with Jesus Calling devotions, the Jesus Calling® Bible Storybook (ages 4-7) is slated to become an instant go-to classic for families everywhere. The bright colors and whimsical illustrations by artist Carolina Farias will delight young readers and draw them into their favorite Bible stories. From creation to David, to the apostles and the early church, this Bible storybook seeks to help children understand Jesus' presence throughout the entire Bible and his role in their lives. At the close of each story, the narrator traces the story's connection to Jesus and the role He plays in God's plan to redeem creation.
"The Jesus Calling Bible Storybook can help young children understand how much Jesus loves them so they can learn to respond to Him with love and trust," says author Sarah Young. "If they form loving, close relationships with Jesus in early childhood, this can help them throughout their whole lives."
Also available is the new Jesus Calling®—Young Adult/Teen Edition, a perfect format for readers ages 13+. It is Sarah's fervent prayer that our Savior may bless every reader, of every age, with His presence and His peace in ever deeper measure.
Learn more about these new titles and others from Sarah Young at www.thomasnelson.com/jesuscalling or www.facebook.com/jesuscalling
WWW.THOMASNELSON.COM/JESUSCALLING
~~~~~~~~~~~~~~~~~~~~~~~~~~~~~~~~~~~~~~~~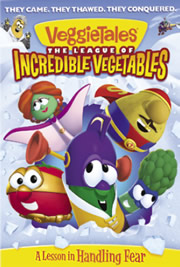 VEGGIETALES: THE LEAGUE OF INCREDIBLE VEGGIES (BIG IDEA)
Where Does A Hero Go For Help?
It was a bright and sunny day in Bumblyburg until Dr. Flurry came to town. This chillin' villain wants to freeze the entire city in fear! The job is too big for LarryBoy to handle alone, so he turns to "The League of Incredible Vegetables" for help! Thingamabob (Bob the Tomato), S-Cape (Mr. Lunt), Vogue (Petunia Rhubarb) and Ricochet (Junior Asparagus) are up for the task, but find that their own fears could land them in Dr. Flurry's deep freeze! Will they remember to turn to the One who is bigger than all their fears before the whole town ends up on ice? Find out in this heroic new VeggieTales episode with a lesson in handling fear and trusting God!
VeggieTales®: The League of Incredible Vegetables is the first-ever multi-superhero themed DVD title to be released by Big Idea Entertainment, a leading studio and producer of children's and family programming, characters and brands. The title helps teach a lifelong lesson in handling fear, one of the most requested subject topics by VeggieTales fans and families. It also includes a brand-new League theme song and music video by Grammy-nominated and Dove Award-winning group, Newsboys.
"Our VeggieTales heroes are unique in that they turn to God for guidance and assistance even though they possess some extraordinary abilities," said Greg Fritz, SVP Sales & Marketing of Big Idea Entertainment. "We are thrilled to offer this action-packed new title that will remind kids where their ultimate help comes from."
VeggieTales: The League of Incredible Vegetables is the fourth title in a series of DVD releases that stars the popular "LarryBoy" character. The DVD also introduces four new superheroes played by beloved VeggieTales characters Bob the Tomato, Petunia Rhubarb, Junior Asparagus and Mr. Lunt, all with hilarious superhero abilities. In addition to engaging bonus features, the DVD contains fun music fit for families, and an all-new Silly Song, "Supper Hero."
A series of League of Incredible Vegetables action figures, toys, apps and other products are also available in retail stores. The lineup includes a six-character play set, Dress Up Petunia Doll, LarryCopter, Soft-n-Squeezy 4-Ball Set, God's Super Hero Costume and an Adventures of the Good Guys 80-page book, as well as a book and game app themed to the DVD.
~~~~~~~~~~~~~~~~~~~~~~~~~~~~~~~~~~~~~~~~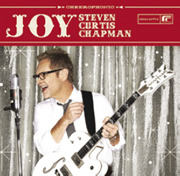 JOY (PROVIDENT) by Steven Curtis Chapman
STEVEN CURTIS CHAPMAN PRESENTS JOY
Legendary Christian music artist Steven Curtis Chapman has released a brand-new Christmas project, Joy. The project showcases seven new, original Christmas songs penned by Chapman and six classics. A collaborative effort with friend and producer Brent Milligan, this is Chapman's fourth career Christmas record following The Music of Christmas (1995, RIAA certified Gold), Christmas is All in the Heart (2003, a Hallmark limited, sold-out run of 400,000) and All I Really Want for Christmas (2005, RIAA certified Gold).
This Christmas CD, however, is particularly meaningful to Chapman: "Many know that the last few years have been a difficult journey for my family and me following the loss of our daughter Maria," says Chapman. "So many have prayed for us and encouraged us, and having the opportunity to write, record and share this new music really feels like the beginning of a new season … a season of joy."
"Even as hard as things have been, it's like the sweet is starting to outweigh the bitter for us more and more," Chapman explains. "Christmas is becoming a less hard thing for us each year. It's not that it's easier to get through because we are forgetting. It's like we can remember now without it just being so painful and the memories can be sweet."
Among the album's 13 tracks are seven new songs including debut single "Christmas Time Again," "Christmas in Kentucky," inspired by Chapman's home state, and "Christmas Kiss," written for his wife Mary Beth. Recording Joy also gave Chapman a chance to record some of his longtime favorites like "Joy to the World," "We Three Kings," "What Child Is This?" and "Christmas Time Is Here," from the animated classic "A Charlie Brown Christmas."
In recording Joy, Chapman, Milligan and some of Nashville's finest musicians traveled to a studio in Lexington, Ky. to allow for total focus on creating the right Christmas vibe. "We found this great studio in Lexington, Ky. (my birth state!), and gathered together some of my favorite players, slept over in the rooms there, set up a Christmas tree (I wore my favorite Charlie Brown Christmas t-shirts everyday) and went at it."
Steven Curtis Chapman has sold more than ten million records including two RIAA certified Platinum albums and eight RIAA certified Gold albums. Along with his five GRAMMY Awards, Chapman has won an American Music Award, recorded 46 No. 1 US radio hits including one in each decade since the 1980s and been awarded 57 Dove Awards, more than any other artist to date. Since his recording career began in 1987, Chapman has recorded 17 projects with Sparrow Records.
He has performed at the White House and has appeared on multiple national programs via CBS, NBC, ABC, CNN, MSNBC, CMT, FOX News, the Hallmark Channel and E!, including "Good Morning America," "Larry King Live," "Fox & Friends," "Huckabee," "CBS Sunday Morning," "The Tonight Show with Jay Leno" and more. Chapman and his wife Mary Beth created Show HOPE in 2001 after bringing their first adopted daughter, Shaohannah, home from China. The ministry's goal is to help families reduce the financial barrier of adoption, and has provided grants to more than 3,200 families wishing to adopt orphans from around the world.
~~~~~~~~~~~~~~~~~~~~~~~~~~~~~~~~~~~~~~~~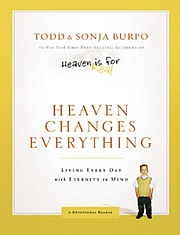 HEAVEN CHANGES EVERYTHING (THOMAS NELSON) by Todd & Sonja Burpo
In the passenger seat, Sonja turned so that she could see our son, whose car seat was parked behind mine. I pictured his blond crew cut and his sky-blue eyes shining in the dark. "Do you remember the hospital, Colton?" Sonja said.
"Yes, Mommy, I remember," he said. "That's where the angels sang to me." — Heaven Is for Real, xvii
Have you ever been watching a television show or listening to the radio and suddenly a voice says something like, "We interrupt this program for an important message from XYZ News"? If you're familiar with that kind of interruption, you understand how the story we shared in Heaven Is for Real unfolded for us. Again and again, our young son interrupted our lives with little strings of words that stopped us in our tracks:
"That's where the angels sang to me."
Or . . .
"I was sitting on Jesus' lap."
Or . . .
"You had a baby die in your tummy, didn't you?"
Hearing these statements, we wondered, How did you know that?
In casual, little-boy language, Colton would mention something that had happened to him in heaven or something he had learned there. These little interruptions became lifechangers for us as we realized his story was true and that it held huge implications for our lives—and for others'. We began to let God teach us through our son.
In addition to writing Colton's story in Heaven Is for Real, we began sharing our experience with audiences around the country. Along the way, we encountered more "interruptions" of memorable moments and life lessons as people shared their own stories or responded with new insights that reinforced what God was teaching us about heaven.
We've written Heaven Changes Everything to share those new "interruptions" and insights that came to us either through an idea God sparked in our hearts or through people who shared their own story in response to ours. Each one is drawn from one of Colton's "interruptions" or from some other part of his astounding story shared in Heaven Is for Real. Some chapters will be short, others longer; like most interruptions, their length and impact are unpredictable. Put together, they reveal how our experience continues to show how heaven changes everything about our life here on earth.
We understand now that Colton's little-boy descriptions of heaven that interrupted our days were actually God's interruptions of our lives. He nudged us unexpectedly with moments that made us gasp — and then grasp the truth, again, that heaven is for real. We pray that the thoughts and lessons we share here will interrupt your life with heavenly perspective the way they interrupted ours, and that living every day with eternity in mind will change everything for you, too.
~~~~~~~~~~~~~~~~~~~~~~~~~~~~~~~~~~~~~~~~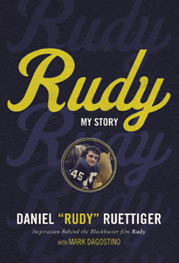 RUDY (THOMAS NELSON) by Daniel "Rudy" Ruettiger
Dream big! Never give up! Because dreams really do come true.
Rudy became the inspiration for millions when a Hollywood film depicting his journey as a Notre Dame football player became one of the most influential sports movies ever made. In Daniel "Rudy" Ruettiger's only autobiography, you can go behind the scenes to experience the heartache, triumph and glory through Rudy's own eyes, and learn details of the 10 years it took to get the movie made.
For the first time, the real Rudy shares his story of floundering through school with undiagnosed dyslexia and finding himself mixed up with a rough and rowdy crowd. "Football was my salvation in high school," Rudy believes, and while he dreamed of playing for Notre Dame, he never believed he was smart enough to make it to the elite group of higher education students.
After high school, he worked at the local coal- fired power plant — feeling desolate and destined for a lower middle-class life stuck in Joliet, Illinois. It wasn't until the Vietnam War in 1969 that he headed to the Navy recruiting office and the trajectory of his life moved in a new direction. The discipline and hard work ethic that his parents had instilled in him growing up carried him through that experience, and he left believing, for the first time, that he was capable of great things.
A poignant and high-energy storyteller, Rudy details failures and pitfalls along the way. He explains the persistence and determination it took to get accepted to Notre Dame, to suit up and play for 27 glorious seconds, and to see the dream of his movie become a reality. Rudy is truly a real-life testament to the old adage; It is not how many times you get knocked down, but how many times you get up again. He will motivate you to discover your own dreams and to pursue them with an unrelenting faith that anything is possible.
Rudy doesn't represent a far-fetched Hollywood story that most people can never attain — its message is that anyone with a dream can make that dream a reality by being willing to put in the hard work and heart it takes to get there.
WWW.THOMASNELSON.COM/RUDY.HTML
~~~~~~~~~~~~~~~~~~~~~~~~~~~~~~~~~~~~~~~~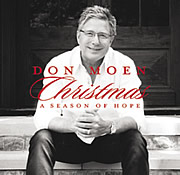 CHRISTMAS: A SEASON OF HOPE (in:ciite media) by Don Moen
Don Moen, world renowned singer-songwriter, worship leader and producer, has released his first-ever, solo Christmas CD, Christmas: A Season of Hope. The project features 10 songs combining well-known works like "Mary, Did You Know?," "Have Yourself A Merry Little Christmas," and "Agnus Dei/O' Come Let Us Adore Him." Also included are new songs, "My Christmas Prayer" and "A Season of Hope," written by Moen.
Christmas: A Season of Hope seeks to capture the hope and wonder of Christmas. Embodying the true meaning of Christmas with its central message on the hope and love brought to this world through Jesus, Moen has woven a timeless piece of melodies giving worship and reverence to the King. "My Christmas prayer is that I would remain close to God," says Moen. "With all the suffering in the world today, there is the temptation to fall to fear … we need to be near the Lord. We need the Hope of Christmas."
Moen and his ministry, Don Moen and Friends, travel all around the world sharing the gospel and his music with thousands. Recently, Moen returned from a tour in India and a stop in the United Arab Emirates. His overseas experiences in ministry, combined with his music, continue to encourage millions around the globe.
Moen's past projects have massed over five million units sold worldwide. He produced 11 volumes for the Hosanna! Music series of worship albums and won a Gospel Music Association Dove Award for his work on the musical God With Us. He has also received numerous Dove Award nominations for his other works.
Moen is currently the president of Don Moen Productions and Don Moen and Friends, a 501c3 non-profit ministry, dedicated to worship evangelism and fulfilling his calling through Psalm 40:3: "I have put a new song in your mouth, a song of praise to our God. Many will see it and fear, and put their trust in the Lord."
Moen travels extensively, teaching and training worship leaders and hosting worship events that promote unity in the body of Christ worldwide.
~~~~~~~~~~~~~~~~~~~~~~~~~~~~~~~~~~~~~~~~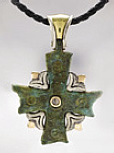 BYZANTINE CROSSES (NOUVEAU 1910)
Jewelers Discover the Treasures of Byzantium
Nouveau 1910 creations utilize authentic bronze crosses from the Byzantine Empire (324-640 A.D.) as the centerpiece.
Under the Byzantine Empire's ancient Greek and Roman cultural belief in Christianity, the church of that era flourished, and would eventually form a bridge between ancient and modern European civilizations. Across the centuries the peoples of Byzantium steadfastly held to their deeply religious Christian faith. "New Rome," as Byzantium was officially christened under Constantine the Great in A.D. 330, remained a shining light until the 15th century. Today, unearthed and intact, our collection of Byzantine crosses may once again be worn, as they once were, as testaments to Christian faith and conviction.
The Byzantine Empire began when the fourth century Emperor, Constantine, Christianized the Roman Empire, making Byzantium the center of its domain with Constantinople as its capital. The uniting of Greek, Roman and Christian cultures gave rise to some of the world's greatest achievements in architecture, art and jewelry design. The blending of these cultures inspired the Byzantine Cross, a symbol of faith during the Byzantine Empire (324-640 A.D.). The crosses, as well as numerous other pieces of this magnificent Byzantine jewelry have been found in the ancient holy land on archaeological digs and shipwreck dives.
The Byzantine cross collection is a collaboration of Isaac Abramcik (Nouveau 1910/Rolling Stone Company) and designer Pavlos Angelas. When they got together three years ago to view a collection of authentic ancient Byzantine crosses, they quickly began to envision the transformation of the artifacts into high-fashion jewelry. These pieces of fine jewelry are encrusted in both sterling silver and 18k gold and are accentuated with a diamond or other precious stones. Included with the purchase of each cross is a certificate of authenticity describing the historical background and specific information about the piece.
Jewelry with a storied past is nothing new to Isaac, whose well-known and popular Nouveau 1910 enamel jewelry collection is based on styles from the Art Nouveau period. As is the case with the Byzantine crosses, sometimes new ideas can come from the past.
Click here to download the PDF of this guide which includes
more information on how to purchase these great items!