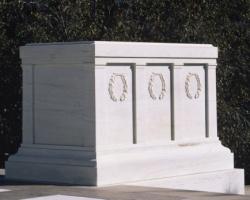 Of Whom the World Is Not Worthy
By
Michael A. Milton
Wednesday, June 23, 2010
Joshua 2; Hebrews 11:30-40Hebrews 12:1-2
A Memorial Day Weekend Message
Introduction to the Reading
Many Americans and presidents have made their way to the center of Arlington Cemetery. There stands a monument that is beloved by all Americans. It is the Tomb of the Unknown Solider. Guarded seven days a week, 24 hours a day, 365 days a year by the Old Guard of the United States Army, it has engraved on it these words:"Here Rests in Honored Glory an American Soldier Known but to God."It's hard to view that sight and not be moved.I want to look at a place in God's Word that has been visited by many believers through time. Here we will honor whom God has honored and memorialized in His Word. Some of these people are known only to God, but He has erected a monument in His Word to the story of His grace in their lives that we, too, may view that sight and be moved, strengthened and encouraged.That is my prayer as we study these passages from
Joshua 2
and
Hebrews 11:30-40
Hebrews 12:1-2
, in the inerrant and the infallible Word of the living God.
Introduction

Camp Wolverine, Iraq, is not where you want to end up. It's not just that it is another sandy, forsaken sort of place in a far away, war-warped country. It is the home of the 4th Quartermaster Company, which is the mortuary affairs camp for the United States Army in that area of operation. The soldiers there say, "We like it when we are bored with nothing to do." There have not been many days like that. One of the young soldiers granted an interview and talked about her support role to those on the front line. Pfc. Mari-Ann Lopez was a mortuary affairs specialist serving at Camp Wolverine. As I read her words, I was proud of her determination to do her mission even though it was hard. I was thankful that she could find meaning in that most difficult of assignments. She felt that she was there to return loved ones to families. She was one link in the chain to aid a grieving family, and she has ministered to the families of men such as:• Staff Sgt. Jorge A. Molina Bautista, 37, 1st Light Armored Reconnaissance Battalion, 1st Marine Division, 1st Marine Expeditionary Force, Rialto, Calif., who died as a result of hostile action in Al Anbar Province, Iraq, May 23, 2004;
• Spc. Jeremy L. Ridlen, 23, 1544 Transportation Company, Illinois Army National Guard, Paris, Ill., who was killed by small-arms fire after an improvised explosive device hidden in a parked dump truck was detonated as his military convoy was driving by in East Fallujah, Iraq, May 23, 2004;
• Staff Sgt. Jeremy R. Horton, 24, Company B, 2nd Battalion, 6th Infantry Regiment, 1st Armored Division, Carneys Point, Pa., who was killed when his vehicle was ambushed by a vehicle-born improvised explosive device near Al Iskandariyah, Iraq, May 21, 2004;
• Lance Cpl. Andrew J. Zabierek, 25, 2nd Battalion, 2nd Marine Regiment, 2nd Marine Division, attached to 1st Marine Expeditionary, who died due to hostile action in Al Anbar Province, Iraq, May 21, 2004.