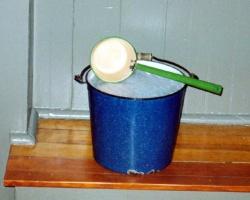 Rivers of Living Water
By
Roger D. Willmore
Tuesday, September 01, 2009
Themes: Holy Spirit, Ministry
Text: John 7:37-39
Over thirty years ago, when I was a very young pastor still adjusting to all the demands that fall upon one in pastoral ministry, I found myself neglecting my study in order to meet other needs. One Sunday evening following the worship service a dear lady — a person who loved and cared for her pastor—said to me, "Pastor, I can hear the dipper banging against the bottom of the bucket." I have never in all these years gotten over that remark. It was her way of admonishing me to not neglect my time in the Word and with the Lord. My pitcher was empty…and she knew it. What about your life, pastor? Do you have supernatural power in your life and ministry? What is your power source? Are you weary and worn-out — can people hear the dipper banging against the bottom of your bucket? Or are you vibrant and victorious?We have before us one of the most remarkable and challeng­ing statements in the whole of the New Testament.Jesus said,"If anyone thirsts, let him come unto Me and drink. He who believes in Me, as the Scripture has said, out of his heart will flow rivers of living water" (
John 7:38
). These words were spo­ken by Jesus to people who were spiritually dry, empty and defeated. They are like many people of our day, going through religious ritual and ceremony but finding no real meaning, life and victory. The apostle John includes the commentary on the words of Jesus.
John 7:39
tells us that Jesus' statement about "rivers of living water" is a reference to the Holy Spirit. When it comes to the doctrine of the Holy Spirit, it is possible to go to extremes. However, despite our fear of one extreme, we must not go to the other extreme and be devoid of the person and power of the Holy Spirit. Herein lies the power for life and ministry. The Holy Spirit is our power source. The 21st century church needs to be reminded of the purpose and power of the third Person of the Trinity, the Holy Spirit. It seems that the modern church has replaced the power of God with the performance of man. Instead of singing, "Holy Spirit breathe on me," we are saying, "Lights…cameras…action." The setting of our Lord's words amplify their meaning. The occasion was the Feast of Tabernacles, the third in a series of Jewish Feasts. In the Old Testament, the Feast of Tabernacles lasted seven days. In the New Testament the Feast of Tabernacles lasted eight days. It was a Thanksgiving Feast. The guidelines for the Feast are found in
Leviticus 23
. The people were required to leave their permanent residences and build booths of willows and palm branch­es. During the Feast of Tabernacles they would live in these booths made of branches as a reminder of their nomadic days in the wilderness. It was a time of remembering God's wonderful provision. During the Feast of Tabernacles, the city of Jerusalem and the Temple area were filled with booths made from branches.