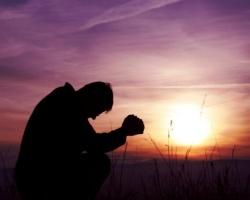 Praying Preachers
By
Ernest V. Liddle
Friday, July 01, 2005
The dire need of today's church is for preachers to become praying people in order to harness the resources of heaven and become channels of blessing. If society is to be impacted with the presence of the Lord, Preachers must have a vivid knowledge of the Holy One. That is discovered "in the shelter of the Most High" and "under the shadow of the Almighty" (Psalms 91:1).
As William Longstaff wrote in poetic eloquence, it takes effort to he holy by spending "much time in secret with Jesus alone." It is a lonely vigil but the most rewarding experience this side of heaven. A joyous presence envelopes us throughout the day after experiencing the satisfaction of worshipping Him. According to the Psalmist, it is a place of stillness where we know God (Psalms 45:10). We can only hear Him speak to us when we are quiet before Him.
God hears us when we leave the tumble and rush of the world for the quiet hour. That is illustrated by Jesus who often went to a mountain to have a night-long conversation with His heavenly Father. This was also true of Elijah. He was strengthened by food prepared by an angel and traveled alone for forty days and forty nights to Horeb, the Mountain of God. During that journey he enjoyed companionship and fellowship with the Lord (1 Kings 19:5-8).
He was so dedicated to the Lord that even his name means "my God is Jehovah." Because his abode was repeatedly in the throne room of the Majesty on High, he could challenge the regal. power of Ahab, the king of Israel, his pagan queen, Jezebel, and her idolatrous priests of Baal. Elijah proved His God-given authority when he issued his ultimatum to Ahab, "as the Lord, the God of Israel, lives, whom I serve, there will be neither dew nor rain in the next tew years except at my word'" (1 Kings 17:1). Cod hid Elijah for those years in His presence "in the ravine of Kerith" (1 Kings 17:3). Later the Lord sheltered him in a widow's home in Zarephath in Phoenicia outside the jurisdiction of Ahab. Although the prophet had these locations as addresses, yet he must have spent most of his time in each with the Sovereign of the universe. Hence, Ahab could never find him for he did not know that one or the place of his habitation.
Few people have had a prayer life like Elijah. He had a consciousness of God and was intimate with Him. He walked with the Lord and lived with a sense of His presence. Hence, He fearlessly challenged the idolatry of Israel. As it came time for him to end his sojourn on earth, God did it in an unique way. "When the Lord was about to take Elijah up to heaven in the whirlwind" (2 Kings 2:1), He sent a chariot of fire.