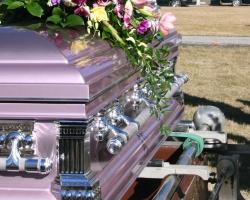 The Widow's Son of Nain
By
Donald T. Williams
Tuesday, August 04, 2009
Luke 7:11-17
And it came about soon afterwards, that He went to a city called Nain. And his disciples were going with him, accompanied by a large multitude. Now as He approached the gate of the city, behold, a dead man was being carried out, the only son of his mother, and she was a widow; and a sizeable crowd from the city was with her. And when the Lord saw her, He felt compassion for her, and said to her, "Do not weep." And He came up and touched the coffin; and the bearers came to a halt. And He said, "Young man, I say to you, arise!" And the dead man sat up and began to speak. And Jesus gave him back to his mother. And fear gripped them all, and they began glorifying God, saying, "A great prophet has arisen among us!" and "God has visited His people!" And this report concerning Him went out all over Judea and in all the surrounding district.
INTRODUCTION:
John the beloved disciple tells us the whole world could not have contained the books if all the deeds of Jesus had been written down. Therefore, those incidents that are included have been selected for a reason. Every miracle story — like this one, for example — is not just another impressive narrative but was chosen to tell us something we need to know about Jesus. This one obviously tells us He could raise the dead, but it tells us a lot more, too. I see at least four important concepts here relevant to all disciples of Jesus Christ today.
I. THE COMPASSION OF CHRIST (Luke 7:13)
You know, I passed a funeral procession on the road the other day: a hearse followed by a long line of cars all burning their headlights in broad daylight. I followed our quaint Southern custom of pulling off the road and stopping until they were past to honor the deceased and show respect to his loved ones. Because I did not know the people involved, I hardly gave it a second thought, and continued on my way as soon as they were past. But Jesus, as it were, flipped on His own lights, turned his car around, and joined the procession to the gravesite.
Since his funeral party was not ensconced in two-ton steel projectiles, Jesus was able to make His way immediately to the side of the grieving mother, a widow who had lost not only her husband but now her only son — which may well have meant her only prop for existence. Jesus felt compassion for her and said something very interesting: "Do not weep."
We've all said something like that in awkward situations: "Don't cry." But what in the world do we mean by it? Sometimes we really mean, "Don't cry — you're making me uncomfortable." Sometimes we ironically mean, "I wish you didn't need to cry — but go ahead; there's nothing else we can do." If we are really kind and empathetic we may join the weeper in her tears. Christ set us an example in this when he wept at the tomb of Lazarus. He was going to do something much more radical than that, but first He joined the suffering people in their tears. But there is also a third scenario that some of us have enacted, perhaps when rushing to the side of one of our children when they were little. Then we may mean, "Your cry for help has been answered. So you can stop crying now: I am here!" This poor widow could not have known she was in a position to hope for anything more than the second meaning. But this third one was what Jesus was really saying, as she would soon discover to her everlasting astonishment and joy.