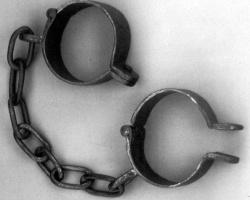 Adventures Of A Prison Escapee
By
Kenneth O. Gangel
Saturday, July 01, 2006
Acts 12
In speaking at family conferences for the last thirty or forty years, I have heard many questions about good ways to handle family worship. Apparently many Christian families struggle with this. I shall never forget an incident which occurred approximately 1967 or 1968 when our daughter, then 4 or 5 years of age, was in charge of family devotions. Julie was telling the very story in the text before us, particularly the part where the angel comes to Peter in prison to release him. In her own words which I still remember, "The angel said to Peter, grab your coat and grab your thongs, we're getting out of here."
Events of this chapter took place in the spring of A.D. 44 and represent the first demonstration of church-state relations, an issue that haunts us well into the 21st century: how much and where should Christians be allowed to speak the gospel in public venues? The problem arose first in Acts 4 and now we see it again in Acts 12. A cruel and powerful king is about to learn that God is always in control.
I. A Powerful King and a Praying Church (Acts 12:1-5)
The Death of James (Acts 12:1-2)
It was about this time that King Herod arrested some who belonged to the church, intending to persecute them. He had James, the brother of John, put to death with the sword (Acts 12:1-2).
The "King Herod" of verse 1 is Herod Agrippa I, the grandson of Herod the Great of Matthew 2 and the father of Herod Agrippa II who shows up later in Acts. In Jerusalem He was literally the voice of Rome. The two brothers in prison, James and John, had been inseparable. Now one becomes the first disciple to die and the other will be the last, since John lived beyond A.D. 90. Actually this is the only record of an apostolic death in the New Testament (Stephen was not an apostle) and it teaches us a basic and crucial principle: there is no premature death with God.
I have been forced to grapple with this issue numerous times during the long years of my life. While serving on the faculty at Trinity Evangelical Divinity School in the early 1970s, Paul Little died in a severe car crash in Ontario in an area I knew well from my travels in that region. Perhaps you have read some of his books: Know What You Believe, Know Why You Believe, and How to Give Away Your Faith. Paul was one of the greatest personal evangelists I ever knew and a fireball for Christ. Why did he go home so early?