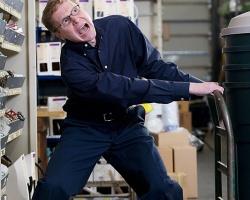 Exposing Our Needs
By
John A. Huffman, Jr.
Saturday, March 01, 2003
Exposing Our Needs
Fifth in a Series
(March, 2003 POL)
Topic: The Law
Text: Galatians 3:26-29
Why is it so difficult for you and me to admit that we have a problem?
We men are chronic at what is almost a gender-oriented disability. We get in our car to go somewhere convinced that we can find our way without specific directions. After wandering around futilely in the general vicinity of our destination, our wives suggest that we stop and get directions, only to fuel in us a greater determination that we know precisely what we're doing. We refuse to get help until finally we're forced to admit that we're lost. Why is it?
Our study workbook in Galatians describes Jill calling out, "Honey, you had better call the repairman. Our TV is on the blink again."
"Who needs a repairman!" Ron replies confidently. "I can fix it myself."
Four hours later, "There, that should do it." As Ron plugs it in, there is a loud buzzing noise, smoke rises from the TV, the lights begin to flicker, and then darkness blacks out the room.
"Uh . . . maybe you're right, dear," Ron says sheepishly. "I suppose calling a repairman couldn't hurt."
Whether we're dealing with frustrating but not so crucial issues like these all the way to those debilitating addictions of drugs, alcohol, sex, power, and greed that hold us in their stranglehold, we somehow think that we can solve the problem ourselves. We learn that when it comes to addictions, you and I are helpless to solve them on our own without the help of our "higher power."
This is precisely what the Apostle Paul is addressing in Galatians 3:15-29 as he continues to deal in this doctrinal section of chapters three and four with the theme of Grace and the Law.
The bottom-line thesis is that the Law is there to confront you and me with our need of outside help and then to point us to Jesus Christ as the only one who can give that help.
He is the one who gives the best directions. He is the one who is the true repairman. He is our "higher power" who can do for us what we cannot do in our own effort.
Last week we saw the Apostle Paul as he gave the personal argument for the importance of grace, not law, to be prevalent in our lives. He called those Galatians "foolish" who had been "bewitched" into exchanging the freedom which was theirs and the amazing grace through Jesus Christ to shift gears from faith in Jesus Christ alone to salvation by works.
He then gave the scriptural argument, going back to passage after passage in the Old Testament, emphasizing that if we are to live under the law we have to obey every aspect of the law. But even the Old Testament Scriptures talk about justification being through faith in God, going all the way back to the Garden of Eden, and then specifically to the case study of Abraham who pre-dated the Law of Moses by hundreds of years. Galatians 3:6-14 not only mentions the righteousness that was credited to Abraham through faith, but hammers away on both Old and New Testament statements to declare without question that we are justified by faith, not by works. We are clothed in the righteousness which Christ earned on our behalf on the cross. Not by our feeble efforts at earning a righteousness based on our adherence to the Law.