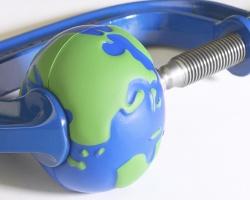 Squeezed or Transformed?
By
James A. Harnish
Saturday, February 01, 2003
Squeezed or Transformed?
(February, 2003 POL)
Topic: Transformation
Text: Romans 12:1-8
Let's begin with an object lesson this morning. This is a toothpaste tube. I'm prepared to confess this morning that I am a "squeezer." I realize that news will come as a grave disappointment to the "rollers" out there. Let's see the hands of the squeezers. Now, let's see the hands of the rollers. They often marry each other and create great opportunities for marital counseling.
You know what happens when you squeeze the toothpaste tube. The toothpaste comes out. But I'm not so interested in the toothpaste today as I am the tube. Did you notice that when I squeeze the tube, it takes its shape from the outside in? Sooner or later, squeezed from the outside in, it will end up empty, with nothing inside.
By contrast, this is a balloon. Right now, this balloon is empty. It has little or no shape at all. But if I blow into it from the outside, it will take a new shape from the inside out. And it will hold that shape, as long as there is air inside. And, of course, you know what happens when let the air go.
Now, some of you may think that is just a silly little object lesson. Some are probably saying, "I came to church for that?!" But I dare you to forget it once you've heard the scripture lesson this morning. It comes from the Romans 12r of St. Paul's letter to Rome. He has spent 11 chapters describing the amazing grace and mercy of God that meets us in our brokenness and sin, forgives, restores, and renews us in our relationship with God and with each other. The twelfth chapter opens with a great "therefore." Therefore, because of the way God's love and mercy have been made known to us, because we have experienced God's grace at the cross, look at the way we should live in response to that love and grace of God.
In order to get the flavor of these verses I want you to hear them in several different translations.
Romans 12:1: "I appeal to you therefore, brothers and sisters, by the mercies of God, to present your bodies as a living sacrifice, holy and acceptable to God, which is your spiritual worship. Do not be conformed to this world, but be transformed by the renewing of your minds, so that you may discern what is the will of God -- what is good an acceptable and perfect."
Romans 12:1: "Therefore, my brothers [and sisters], I implore you by God's mercy to offer your very selves to him: a living sacrifice, dedicated and fit for his acceptance, the worship offered by mind and heart. Adapt yourselves no longer to the pattern of this present world, but let your minds be remade and your whole nature thus transformed. Then you will be able to discern the will of God, and to know what is good, acceptable, and perfect."