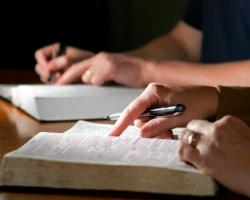 The 2012 Preaching Survey of the Year's Best Books for Preachers
By
R. Albert Mohler Jr.
Friday, February 15, 2013
Preachers need books as camels need water. The preacher knows the experience of needing a particular book at a particular time in order to prepare a message; other than friends and family, books are often the preacher's closest companions.
"When I want a book, it is as a tiger wants a sheep," said Oliver Wendell Holmes. "I must have it with one spring, and, if I miss it, go away defeated and hungry."The 2012 publishing year was productive for preachers, and the preacher looking for books need not go away hungry. The following is a review of some of the more interesting and important titles of the past publishing year.
Biblical Studies/Commentaries

Above all, the preacher's library needs a collection of worthy commentaries. The function of commentaries in the life of the preacher is complex. No commentary should produce a sermon. Rather, the sermon should be drawn from the text of Scripture. However, that underlines the actual value of a commentary. A valuable commentary provides assistance in the translation and exegesis of a passage, and then goes on to provide information that would be difficult for the preacher to unearth on his own. This would include everything from practical insights on the text to archeological findings and, most importantly, the context of biblical theology.That last function also points to a pattern in modern publishing. The renaissance of interest in biblical theology and in the interpretation of Scripture as a whole, honoring the grand narrative of Scripture, has led to several series and individual commentaries the preacher will welcome as being of particular significance in seeking to develop a well-rounded preaching ministry.An illustration of this is the Preaching the Word Series from Crossway. This worthy series, edited by R. Kent Hughes, saw the release of at least three volumes this past year. Raymond C. Ortlund Jr. provides a commentary on
Proverbs in Proverbs: Wisdom that Works
. Ortlund is lead pastor of Immanuel Church in Nashville, Tennessee. His writings on Scripture are always worthy of the preacher's attention and space on the preacher's bookshelf. Before entering the pastorate, Ortlund taught at Trinity Evangelical Divinity School for nearly a decade.In
Proverbs
, Ortlund reminds us: "As we come to the Book of Proverbs, God does not intend to crush us with layer upon layer of demand. He intends to help us. The Book of Proverbs is practical help from God for weak people [such as] us stumbling through daily life. It is His counsel for the perplexed, His strength for the defeated, His warning to the proud, His mercy for the broken." Those words suffice to indicate this commentary on Proverbs will be of great profit to the preacher.Ajith Fernando has contributed
Deuteronomy: Loving Obedience to a Loving God
. Fernando teaches and preaches in Sri Lanka, where he serves as teaching director for Youth for Christ. Fernando is well known as an author, and this new commentary will introduce him to an entirely new audience of readers. Given the stature of Deuteronomy, this is a hefty commentary; the preacher will find it to be of great value. "Why am I so excited about Deuteronomy? Primarily because in this book, Moses is attempting to do something that is still so important for all Christians. He is close to death, and they are close to entering the Promised Land without him, the one who led them for forty years. Deuteronomy gives Moses' farewell address to them. His aim is to motivate them to go forward and to conquer the land and to help them to be faithful to God in the midst of all the challenges to such faithfulness that they will face."