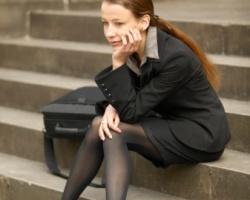 How To Overcome Discouragement
By
John A. Huffman Jr.
Sunday, June 01, 2003
Psalms 118:5-6
In my anguish I cried to the Lord,
and he answered by setting me free.
The Lord is with me; I will not be afraid.
What can man do to me?

Our theme today is "How To Overcome Discouragement." I was thinking of making the theme "How To Overcome Depression." However, I felt that because the word depression has taken on a much greater significance in our culture, with the medical and psychiatric diagnosis of clinical depression, I would not want to trivialize the depth of mental illness with words of a pastor that would be insufficient to deal with the pathology of clinical depression. We are talking about discouragement, and we are talking about that kind of depression, that melancholy, that malaise of life that captures us from time to time in its grips.
Do you know what I'm talking about? Have you been there? Have you been discouraged? Have you been depressed? Have you had to reach up to touch bottom? If so, you are not alone. Modern society has tremendous depressing-producing dynamics in it and much reason for us to be discouraged.
I, from time to time, receive advance copies of book manuscripts to read and to give a little jacket blurb. I received one a few days ago written by a Christian psychiatrist by the name of Dwight Carlson. Some of you know of his other writings. This book is yet untitled because it is unpublished. Let me read what he says. His theme is on the discouragements and the stresses of life that produce great discouragement. He talks about how it is in modern life and the pressures we have.

Several decades ago we thought that with all the modern conveniences our lives would slow down and there would be increasing free time to enjoy life. Instant e-mail, cell phones, computers, and palm display units were supposed to help us become more efficient. Somehow the opposite has occurred. Our work loads are heavier, our jobs are insecure, and generally a sense of loss of control hangs over our future. Leisure time has significantly decreased. A 45 percent increase in life stresses has occurred in the last 30 years." The industrialized nations have more color TVs, high-speed computers, luxury cars, and brand-name clothes than they did several decades ago, but we are no happier. "Meanwhile, the divorce rate has doubled, teen suicide tripled, violent crime nearly quadrupled . . . [and] depression rates have soared." During the week after the September 11th, 2001 terrorist attack on the World Trade Center 90 percent of the adults in the United States experienced some symptoms of stress, and 44 percent of all adults experienced symptoms of substantial stress. In a recent study in Great Britain, it was reported that one in ten believed that they would be better off if dead, one in four said they were unhappy in their jobs, while one in three felt exhausted, unappreciated, or underpaid.
Do you catch it? If you experience discouragement from time to time, you are not alone. It is a reality of life, common to everyone to a lesser or greater degree. Oh, occasionally, you see a person who seems to skate through life without discouragement. I'm sometimes inclined to want to scratch beneath the surface to see if that person is in touch with reality.