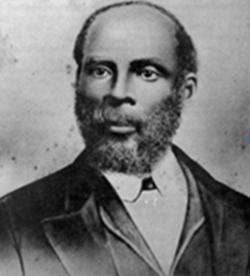 John Jasper: Preaching with Authority
By
Wayne E. Croft Sr.
Wednesday, February 15, 2012
John Jasper was one of the most famous black preachers of the 19th century and remains one of the most celebrated slave preachers. Jasper was born to Philip and Tina Jasper on July 4, 1812, the youngest of 24 children on Peachy Plantation, Fluvanna County, Virginia. His mother was a devout Christian, and his father was a Baptist preacher. Two months before Jasper's birth, his father died. When Jasper was born, neighbors encouraged his mother to name him after his deceased father. However, she was inspired to name him after the beloved disciple John.
At 22 years of age, John met 18-year-old Elvy Weaden, a slave girl from another plantation. On the very same night, they were married. Their marriage, however, did not last long. Jasper and his new bride were found and thought to be trying to escape. Jasper tried to explain he was just married. His pleading was ignored and he was sent to Richmond.Elvy did not understand and within a few moths sent word that if he did not come to see her she would remarry. Jasper pleaded with his owner, John Peachy, but Peachy refused to let Jasper go, so Jasper sent word to his wife that he could not come. Word was sent back: "Elvy is married again." This tragedy caused Jasper to become bitter. Unfortunately, this was only the beginning of many other tragedies.Jasper had two other marriages, one ill-fated and the other ending by death. Finally, he married his fourth wife, Martha, in 1876; she survived John.
Just before Jasper's second marriage, he was sold to Samuel Hardgrove, a devout member and deacon of the First Baptist Church of Richmond. Hardgrove's deep religious convictions had a profound influence on Jasper. While working as a tobacco stemmer, Jasper, at age 27, converted to Christianity. He was persuaded and convinced by the power of God that he had been called to the sacred work of the gospel. His calling to preach occurred the same day he was converted.When the members of First African Baptist Church in Richmond (also known in some historical documents as Old African Baptist Church) heard of Jasper's conversion, they approved his baptism. The same day, he preached a funeral. Jasper did so well that no one wanted to send a loved one to glory without Jasper preaching. Thirty days after his baptism, the members of First African Baptist Church licensed Jasper to preach.In April 1865, after working in the rolling mill in Richmond, Jasper was given his freedom. In 1867, after the Civil War and at the age of 55, Jasper organized the Sixth Mount Zion Baptist Church in a horse stable with nine members and a $9 per week salary. The congregation purchased a small Presbyterian Church in Richmond at Dwight and St. John streets for $2,025 and spent another $6,000 remodeling and enlarging the building. The congregation grew from nine members to more than 1,000 and soon 2,000. Jasper reached the height of his preaching ministry as pastor of Sixth Mount where he served for more than 30 years.Unfortunately, we have no written or published sermons of Jasper's time as a slave. He did not write his sermons, but preached extemporaneously during that period of his ministry. Some of his post-slavery sermons, however, were reprinted by Clyde E. Fant and William Pinson in their collection of 20th century sermons and transcribed by William E. Hatcher [Jasper's dialect], in his autobiography of John Jasper.