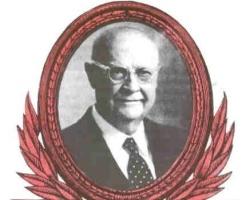 Past Masters: Mordecai Ham: The Southern Revivalist
By
David R. Stokes
Saturday, September 03, 2011
There had been a persistent rumor around town about a particular house located across the road from one of the local high schools and how it had become a den of iniquity. A preacher had been making a big deal about it and the fact that sexual immorality was rampant in the area, particularly among young people. One version of the tale had it that some of the high school students were planning some kind of demonstration out at the makeshift tabernacle, where the old preacher was railing against the sins of the city. The whole thing finally convinced one previously reluctant young man to go out to one of the revival meetings to check out things for himself.
The year was 1934. The city was Charlotte, North Carolina. The young man was William "Billy" Franklin Graham. The old preacher was a guy named Mordecai Ham.Young Billy Graham listened to Mordecai Ham that first night. The preacher thundered against sins, and Graham couldn't help but feel he was the preacher's target. He went back the next night—and the next. Eventually, he decided to avoid the evangelist's penetrating stare by joining the choir, even though he couldn't hold a tune in a bucket. However, even without seeing Ham's eyes, he heard that voice, as well as another voice—one stiller and smaller than that of the loud preacher.Mordecai Fowler Ham Jr. (1877-1961) was one of the most well-known preachers in the American south in this time. More than 300,000 people were converted in his crusade-type meetings. In fact, he was among the last of the highly successful tent/tabernacle revivalists—except, of course, for his famous convert that night in 1934. That young man moved from tent to stadium and to ultimate influence for the Kingdom of God.Born in Allen County, Ky., Mordecai F. Ham was the son and grandson of preachers—actually his ancestry included clergymen going back eight generations. His grandfather Mordecai Ham Sr. managed somehow to juggle 14 pastorates at one time.Young Mordecai was converted as a young man and felt the stirrings of a call to preach; but he resisted, or at least postponed such surrender, determined to make a personal fortune first. Having watched his father and grandfather barely scrape by fueled his personal ambition. He attended a local college, studied law and soon found early success in business.That all changed the day he watched his grandfather die in 1899. It was almost as if in that moment a mantle of sorts was passed from grandfather to grandson. Ham later referred to the experience: "Seeing him die did more than anything else to convince me of the reality of Christian experience."Very soon thereafter, everything changed for young Mordecai Ham. First, he married Bessie Simmons; then he quit his business, giving his share to his partner. He borrowed a little more than $1,700 from a local bank and began his ministry with an intense time of self-preparation. During an eight-month period in 1900, Ham devoted all his time to the study of the Bible and the reading of 27 books, including manuals on Old and New Testament history, the works of Josephus, various writings about Baptist history and polity, a couple of titles about the second coming of Christ and one called
The Mistakes of Ingersoll
, a book that dealt with the most famous infidel of the day.