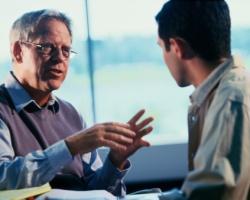 Learning from My Mistakes
By
Matthew D. Kim
Thursday, April 11, 2013
I preached my very first sermon at the ripe old age of 13. The Bible conveys that Timothy was a young preacher, but on that particular day, I made Timothy look ancient. At a summer retreat, the teachers of our youth group cruelly and puzzlingly decided to hold a preaching competition. My name was tossed in as one of three extremely nervous and unqualified preachers to share a message for this contest. We were given three hours to prepare a sermon on any Scripture text.
This competition clearly demonstrated that our teachers didn't understand what preaching really is, but we won't get into that today. I vaguely remember preaching from
Ephesians 3:14-21
concerning Paul's prayer for the Ephesians. The sermon wasn't crafted with much skill—or much prayer—but I enjoyed the experience. So preaching became etched into my bones from an early age.As an adult, I spent the better part of a decade in pastoral ministry. Prior to teaching homiletics at Gordon-Conwell Theological Seminary, I served as a youth pastor in Brookline, Mass., and as the senior pastor of a church in Denver, Colo.. In both church contexts, I preached almost every Sunday. During these formative years in the pastorate, I discovered how to—and how not—to preach.In this article, I want to share not from my successes in handling and preaching the Word, but from my list of failures. Here are 10 mistakes I've made in preaching and what I've learned from them. Perhaps one or more of these homiletical shortcomings will resonate with you, while others will cause you to reflect on areas for further improvement in your own preaching ministry.
Believing that Writing an Outline Is as Effective as Writing a Manuscript

As a youth pastor, I thought it was good enough to write a skeletal outline of the sermon and not write out a full-length manuscript. I didn't have time to bother with writing a manuscript. That would take too long, I thought. In short, I was lazy. The problem is that when you're introverted and not always quick on your feet, the right words don't seem to fall gracefully from your lips.I remember toward the end of earning my M.Div., I was encouraged by the preaching faculty to study for doctoral work in homiletics. My wife, who was then my fiancé, and I had an exhausting conversation one night that went something like this: "Sarah, I've been encouraged to do doctoral work in preaching. I was hoping that after we get married, we could move to Scotland so I could pursue a Ph.D. in homiletics." To this, she bluntly replied: "Why would you want to do that? You're a terrible preacher."After two years of listening to my sermons as a youth pastor, my wife had heard her share of not-so-stellar sermons. She kindly went on to explain that the ineffectiveness of my preaching stemmed from the fact that I didn't write out my sermons word for word. She was right. I just conjured up a few bullet points on my outline and filled in the sermon as I went along.