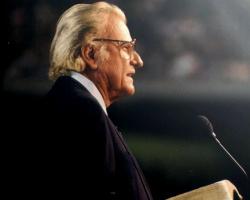 The 25 Most Influential Pastors of the Past 25 Years
By
Michael Duduit
Tuesday, April 20, 2010
When Preaching magazine was launched in 1985, a look at our list of contributing editors gave you a sense of who would be listed among the most influential preachers in America. That original group included Stuart Briscoe, Maxie Dunnam, Jim Henry, David Allen Hubbard, John Huffman, D.E. King, James Earl Massey, Calvin Miller, Lloyd John Ogilvie, Stephen F. Olford, Haddon Robinson, J. Alfred Smith, John Wesley White and William Willimon, along with several more. (See the sidebar to see the full list of original contributing editors.)

Thankfully, many of those preachers are still on the scene, though others have gone to be with the Lord. A quarter-century has brought great changes to the preaching landscape, and today's list of contributing editors includes names that would have been unknown to most pastors 25 years ago: Rick Warren, Bryan Chapell, James MacDonald, Robert Smith, Dave Stone, James Emery White and Ed Young Jr. (though his pastor dad would have been a good candidate for the original list—and is now among our senior consulting editors).

Identifying the 25 most influential preachers of the past 25 years is a challenging assignment. There were some who were major influencers of preaching in 1985 who would be little known to today's new generation of pastors; likewise, there are some major influencers today who weren't on the scene 25 years ago. (Actually, some of them were in grade school.) As we were gathering data and compiling the nominations in this process, we tried to ensure balance so neither end of the era is neglected.

Because the primary focus and audience of Preaching magazine has been the American pulpit, that is the context in which these preachers are recognized. Many gifted and influential preachers have served faithfully around the world and in terms of Kingdom impact may have touched far more than many of those listed below. We may not know them, but God does.

Here, then, are the 25 most influential preachers of the past 25 years:
#1 Billy Graham
He just as easily could be the top of a list of the most influential preachers of the past half century; when Preaching cited the most influential preachers of the 20th century (in our first issue of the 21st), Billy Graham came in at number two. In a recent LifeWay survey of the most influential living preachers, Graham topped the list. When considering preachers who have influenced the rest of us, Billy Graham simply stands in a category unto himself.

John Huffman describes Graham's "integrity of life and passion of expression that not only led millions to faith in Jesus Christ but challenged so many of us to be faithful in our ministries. His founding of Christianity Today and his various conferences bringing together evangelicals from around the world make him tops on most of our lists."