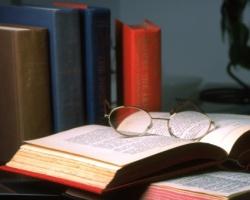 The 25 Most Influential Preaching Books of the Past 25 Years
By
Michael Duduit
Friday, February 05, 2010
During the 25 years of Preaching magazine's publication history, books have played a major role in the publication. No wonder—books are the lifeblood of the preacher's work. Because books play such a vital role in the life of the preacher, this publication has offered a key resource to help preachers know which volumes promise to help us be more effective in the task of proclaiming the Word.

Each year, Preaching offers an extensive survey of the best books for preachers published in the past year; since the beginning, that survey has been written by R. Albert Mohler, President of The Southern Baptist Theological Seminary in Louisville, Kentucky. Until moving to the seminary presidency in 1993, Mohler served as associate editor of Preaching, and wrote all the book reviews, as well as conducting a number of interviews. Upon assuming the presidency, Mohler stepped back from writing "The Preacher's Bookshelf," which appears in most issues, but still writes the annual survey, as well as compiling his annual list: "The 10 Books Every Preacher Should Read this Year." Since 1993, Editor Michael Duduit has written the "Bookshelf" column, as well as the annual survey of the best homiletical books of the year (including the Preaching Book of the Year), which accompanies Mohler's survey.

One of the distinctive elements of Preaching's focus on books has been to identify the best publications in the area of homiletics. Such books make up the bulk of book reviews in each issue and typically are the source of those titles recognized as Book of the Year, with just a few exceptions. During the past 25 years, what have been the most influential books on preaching—those volumes that have made the greatest impact on American preaching?

In recent weeks we've surveyed readers, preaching professors and influencers to compile what we believe to be those books which more than any others have shaped the thinking and teaching about preaching in the past quarter century.
#1 Biblical Preaching by Haddon Robinson (Baker Books)
This book stands apart from all the others in terms of recognition by those who study preaching—by far it received the most nominations from pastors and professors. The book was originally published in 1980, 30 years ago, but has dominated the classrooms of evangelical colleges and seminaries in the past 25 years. A revised second edition was published in 2001, guaranteeing that succeeding generations of young preachers would benefit from this outstanding introduction to the task of preparing and presenting biblical sermons.

Robinson's emphasis on "Big Idea" preaching has shaped the thinking of thousands of expository preachers and been the major influence on many of those who teach preaching in today's classrooms. More than any other book of the past quarter century, Biblical Preaching has profoundly influenced a generation of evangelical preachers.