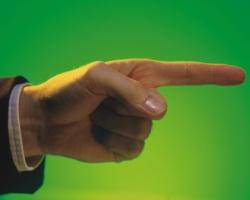 What's the Point? Moving from Exegetical to Homiletical
By
Ken Burge
Sunday, November 29, 2009
It was the winter of 2003, and I was attending Dallas Theological Seminary working on a doctorate with an emphasis in preaching. After 12 years of full-time pulpit ministry and having won a preaching award the prior year at the Capital Bible Seminary, I thought I knew preaching pretty well. However, what I was about to learn under the tutelage of Dr. Timothy S. Warren would influence my preaching dramatically forever.
Seminary had taught me how to exegete Scripture thoroughly. It was my privilege to study Hebrew, Aramaic and Greek, which laid the foundation for the development of the exegetical points which I fashioned, based on the emphasis of the biblical text. Next, I would make that huge jump and write my homiletical points. What I learned from Dr. Warren was that I was missing a major component in the process. From him, I learned about the theological step which would enable me to bridge the chasm between the exegetical and homiletical points.
Grant and Reed ask and then answer this pertinent question, "Is it really necessary to take this theological step? Yes, because it sharpens your knowledge of theological truth and because the theological step serves to check initial exegetical conclusions and to confirm interpretive decisions."

[i]

The theological step reveals the timeless truth that the passage gives and bridges the gap between the exegetical and homiletical points.
The Development and Distinctness of Points

The preacher has an enormous challenge before him: He is called to proclaim the enduring truths of the Word of God, which are anchored in the nature of an unchanging God, to people who are vastly influenced by a rapidly shifting culture. How does the expositor apply these lasting truths to people in his generation and maintain accuracy and relevancy without compromising the authority of God's Word? The answer is found in the three-fold method of sermon preparation that includes developing exegetical, theological and homiletical points. These steps are to follow your initial sermon preparation, which I call F.I.R.E. (familiarity, interpretation, relationship and employment).
The Greek word for exegesis is exeegeomai
. It comes from two words which literally mean "to lead out." Zodhiates defines this word as "to bring or lead out, declare thoroughly and particularly."

[ii]

This word is used six times in the Greek New Testament; it is found in John 1:18 which says, "No one has seen God at any time. The only begotten Son, who is in the bosom of the Father. He has declared
Him." The Lord Jesus came to exegete the Father. This means that He came in order to "declare Him thoroughly and particularly." Hence, to exegete a passage is to find out the points the author was making. You should write out exegetical points using names, places, dates, etc.