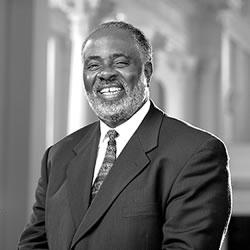 Preaching & Passion: An Interview with Robert Smith
By
Michael Duduit
Saturday, January 01, 2005
Robert Smith teaches preaching at Beeson Divinity School and has been a featured preacher at past sessions of the National Conference on Preaching. He will be part of the 2005 conference in Nashville, which will use the theme "Preaching With Passion." Preaching editor Michael Duduit recently talked to Robert about the place of passion in preaching.
Preaching: Whenever you preach I sense an enormous amount of passion in your preaching. Tell me a little bit about what you see as the place of passion in your preaching specifically and then generally with preaching.
Smith: My passion does not come simply become I'm outgoing. Really I'm very introverted. But my passion comes as a result of my being engaged with the text. When God has revealed to me through my studies the meaning of something that is so revelatory and relevant and the text literally comes to life, then my passion is ignited. I feel a relationship with Jeremiah. In Jeremiah 29 he said: "I said I was not going to speak in His name anymore but his word was in my heart like fire shut up in my bones, and I couldn't hold my peace. Because His word was in my heart then it was like fire. Ignited my emotions, and I had to speak it."
Those kinds of passages help me to understand the role of passion in preaching, which is directed by an engagement with the text so that exegetically one comes to understand what that text is saying to Gods people. In the passage as they are leaving Jerusalem on the way to Emmaus, they said, "Did not our hearts burn within us while he talked with us by the way and opened to us the scripture." Hear what they said: Eyes were opened. Opened to us the scripture. There's burning, and a desire to go back to Jerusalem to tell the eleven that the Lord is risen.
Preaching: Most people would tend to think of passion as being emotionally-driven but you talk about it being textually-driven.
Smith: Exactly, because all of us are emotional. Maybe some are more subdued than others. Real passion comes from listening to God's Word and being engaged in a conversation with the text. Passion is not simply feeling in the pulpit, to scream and holler. A preacher may stand still, never bobs and moves and does nothing emotional, that individual can still have passion because of the Holy Spirit.