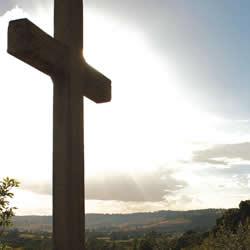 Preaching The Cross: An Interview With John Phillips
By
Michael Duduit
Wednesday, March 01, 2006
Through his preaching and writing, John Phillips has become a beloved resource for thousands of preachers. A gifted expositor of scripture, Phillips is becoming known to a new generation of preachers through Kregel's publication of his "Exploring the Word" series of expositional commentaries. Preaching editor Michael Duduit recently visited with Phillips on the occasion of the publication of his newest book, containing a series of expository sermons based on the cross.
Preaching: Your new book – The View from Mount Calvary (Kregel) — is on the cross. Why is it important to preach the cross?
Phillips: Well, it is the very essence and heart of the gospel. Paul says, woe is me if I preach not the gospel. The cross is at the very center of everything. Glory in the cross, glory in the cross.
The cross is the message we have for a lost world. We have no other message. Christ died for our sins according to the scriptures. He was buried, rose again the third day according the scriptures. That's the gospel. That's all about the cross. Thank God we glory in the cross.
As Paul is writing to the Corinthians, he says, "I've made up my mind I will preach nothing among you save Jesus Christ and Him crucified." He'd just come from Athens and he had adapted his message to his audience in Athens, the intellectuals, and the result of his testimony on Mars Hill was almost negative. He came down from that experience and said never again — I will preach the cross now. I've tried using their own arguments, but we have to do better than that. So we preach the cross.
The book itself has twenty-four chapters on the cross. The first deals with the Lamb that was slain from before the foundation of the world. The cross was in the mind of God before ever the rustle of an angel's wing, just the silence of eternity. When God decided to act in creation, create other wills in the world besides his own — in essence, when He decided to act in creation — at the same time, He knew He would one day have to act in redemption. That's why the cross. To the Jews a stumbling block, foolishness, outrage; to them that believe it is the power of God, the wisdom of God, contrary to this world's wisdom.
Preaching: In the new book, are there some particular favorite passages about the cross that you enjoy preaching?
Phillips: There are two chapters on the burnt offering and the sin offering and the trespass offering. A spiritually educated person would delight in those chapters; the average person wouldn't even know what you are talking about. I tried to make it understandable, but it is foolishness to the Greek, Paul says.