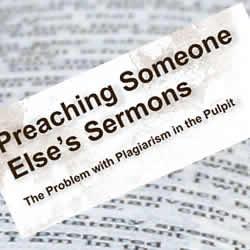 Preaching Someone Else's Sermons
By
George R. Cannon, Jr.
Monday, January 01, 2007
"Discover a fresh new preaching series" read the outside of the envelope. It was an advertisement concerning a sermon series that I could purchase. It is not unusual for me to receive several such advertisements a month. Some promise inspiring messages that will save me — "the busy pastor" — large amounts of time that I don't have for studying.
In fact, sermon-writing services are everywhere. For a small fee each month, pastors can have access to literally hundreds of sermons on any given topic or passage on the Internet. If you are not willing to pay, simply visit any one of thousands of church websites and download this past week's sermon from another pastor. Pastors conferences also provide endless resources. It seems that the once forbidden fruit of preaching ministry has now become a fashionable staple in time management for the modern pastor.
At one pastors conference I attended, the issue of preaching someone else's sermon came to the forefront. One speaker openly stated that "he would preach better sermons, when someone wrote better sermons." At this same conference, another speaker gave an inspiring message that seemed to stir all in attendance. However, the problem was that I heard the very same message on Christian radio several months before by another well-known speaker.
The availability of these resources (Preaching Plagiarism) poses several questions that must be answered by those who minister in word to God's people. "Is it right to use someone else's sermon and pass it off as your own?" "Is it fair to the congregation?"
Giving in to the Temptation
I have found that it is very difficult to define and schedule a typical week. On any given day, there always seems to be something that comes up that seeks to eat up my schedule. With the destruction of my time schedule, the number one area that is affected is sermon preparation. While this may be true, an overall principle looms in the background. The principle is this, "No matter how busy I may be this week, it is not an option to get up in the pulpit and inform the congregation that there was no time for a message this week." So the pressure to produce is continually there as the weekly deadline approaches.
While I was serving in my first pastorate, I phoned a friend in a nearby church and shared with him the frustration that I was having in developing a Father's Day message. No matter how I struggled to develop a message, I found the well to be dry and Sunday's deadline was coming. My friend listened to my frustration with patience and then he offered a suggestion. "George, do you have any tapes of messages that relate to the needs of men? Simply borrow a message from one of the tapes."
I expressed a reservation to his suggestion. "Isn't that wrong?" I protested. He told me not to worry about it. He pointed out that all preachers borrow their sermons from each other.