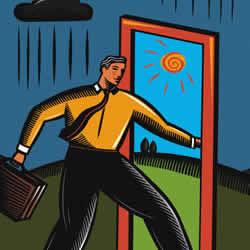 Preaching For Life Change: It's All In Learning To Preach Like Jesus
By
Rick Warren
Monday, September 01, 2003
There has never been a more appealing and interesting preacher than Jesus.
Why not model Him?
Jesus' preaching attracted enormous crowds, and the Bible often records the positive reactions of those crowds to his teaching.
• Matthew 7:28 — " . . . the crowds were amazed at his teaching."
• Matthew 22:33 (TLB) — " . . . the crowds were profoundly impressed."
• Mark 11:18 (TLB) — " . . . people were so enthusiastic about Jesus' teaching."
• Mark 12:37 (NASB) — "The great crowd enjoyed listening to Him."
These crowds had never heard anyone speak to them the way Jesus did. They were spellbound by His delivery.
To capture the attention of unbelievers like Jesus did, we must communicate spiritual truth the way He did. I believe that Jesus — not anyone else — must be our model for preaching. Unfortunately, some homiletics classes pay more attention to Aristotle and Greek rhetoric than to how Jesus taught.
In John 12:49 Jesus admitted, "The Father who sent me commanded me what to say and how to say it." Notice that both the content and the delivery style were directed by the Father. This is extremely important to note. We often overlook the manner in which Jesus preached.
There's so much we can learn from Jesus' style of communication, and not just His content. For now I want to briefly identify three attributes of Jesus' preaching.
Jesus began with people's needs, hurts, and interests
Jesus usually taught in response to a question or a pressing problem from someone in the Crowd. He scratched where people itched. His preaching had immediacy about it. He was always relevant and always on target for that moment.
When Jesus preached his first sermon at Nazareth, He read from Isaiah to announce what the preaching agenda of His ministry would be: "The Lord has put his Spirit in me, because he appointed me to tell the Good News to the poor. He has sent me to tell the captives they are free and to tell the blind that they can see again. God sent me to free those who have been treated unfairly and to announce the time when the Lord will show his kindness." (Luke 4:18-19 NCV)
Notice His entire emphasis on meeting needs and healing hurts. Jesus had Good News to share, and people wanted to hear it. He had a message that offered practical benefits for their lives. His truth would "set people free" and bring all sorts of blessings to their lives.
Our basic message to the lost must be good news. If it isn't good news, it isn't the gospel. We must learn to share the gospel in ways that show it is both "good" and "news." The gospel is about what God has done for us and what we can become in Christ. A personal relationship to Christ is the answer to all of man's deepest needs. The good new offers lost people what they are frantically searching for: forgiveness, freedom, security, purpose, love, acceptance, and strength.