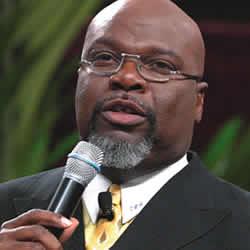 Preaching To Mend Broken Lives: An Interview With T.D. Jakes
By
Michael Duduit
Saturday, November 01, 2003
Time magazine called him "America's Best Preacher," and there are thousands of listeners across America who wouldn't disagree. After building a strong church in South Charleston, West Virginia, T.D. Jakes led 50 families from that church to Dallas to create The Potter's House, which within five years grew to more than 28,000 members. Today Bishop Jakes is also known for his weekly national television broadcasts and his arena events held across America, as well as a string of best-selling books. Under his leadership, The Potters House has also taken a variety of initiatives to meet human needs through ministries to the homeless, drug abusers, prison inmates, and many more. Preaching editor Michael Duduit sat down with Bishop Jakes recently to discuss the place of preaching in his ministry.
Preaching: One of the fascinating things about your ministry is that your ministry has engaged the interest of women in a significant way, yet at the same time your Dallas congregation has a higher percentage of men than a typical church. How do you explain that?
Jakes: It's hard to explain it. I'm not sure that it was something we purposely set out to do. One thing is I do the "Woman, Thou Art Loosed!" (WTAL) conference, which has brought national visibility, but I also do a men's conference called "Man Power" that is growing by leaps and bounds. We had around 25,000 men last year. We're expecting 50,000 men in Atlanta this year at the Georgia Dome.
I've tried to deal with the entire perspective of the family from the women to the man and vice versa. My ability to connect with women has come from being a counselor and a pastor over half of my life, and 27 years have been behind a desk listening to people talk about the deepest issues and area of their lives. That gives you a unique opportunity to hear and to understand and to translate that language into some order. Sometimes we really have to answer inside of ourselves but we don't put it in an order where we can really hear what's going on in our own heart.
Preaching: How did the WTAL emphasis come about?
Jakes: The WTAL started out as a Sunday school class. It was supposed to be one class for about forty women. I was inspired to do it because I had counseled so many women who were going thru similar devastating childhood issues and scars that were affecting them in the current context of their lives. I decided to bring them together in a Sunday school class because I believe that there are Biblical answers to all of the sociological ills that we face today. I thought that not only would they find encouragement from things that I had to say, but the deeper encouragement would come from them seeing that they were not alone. For them to look across the aisle and see another women who was being touched or ministered to as well would cause them to know that there is a sense of community which is critical for our well being.